Enjoy comfort and privacy just minutes' walk to the surf in our tropical garden villas.
Welcome to...
Riviera Riverside Villas
Rio Claro de Pavones

The Villas:
Riviera is made up of three spacious villas and a larger Riviera House, spread amongst the private tropical gardens. Each villa has its own large patio with hammock and sleeps from two to six people. Guests enjoy such in-room amenities as fully equipped kitchen complete with full size refrigerator, coffee maker, private bath with hot water, air conditioning and fans, security lock boxes, Wireless Internet and the option of daily maid service. Our friendly staff is ready to provide you with all you need and answer any questions.
---
The Riviera House: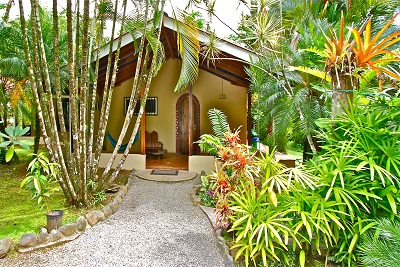 Photo Credit:Alex Lanau
The Riviera House is a 2 bedroom and 2 bathroom house with a complete kitchen,living/dining area, wrap around patio with hammocks, and surfboard locker room. It is the perfect fit for a larger group or family. The master bedroom is equipped with a queen size bed, while the secondary bedroom has a full size bed and also a twin size bed. The living area has a queen size day bed and small TV with DVD player. The kitchen is complete with a stove, large refrigerator,blender, and coffee maker. Also included is Wireless Internet, air conditioning, hot water and daily maid service.
---
The Gardens:
The tropical gardens of Riviera have a large range of exotic palms, flowers, and fruit trees. Located along side the Rio Claro river, you can enjoy swimming, jungle hikes up the river, and floating down to the beach and surf. The riverine habitat and large gardens of Riviera provide an excellent place for bird watching and spotting other rainforest animals such as monkeys, sloths and iguanas.